Look around Seoul
Districts of Seoul
The Seoul city covers 0.28% of the entire peninsula (or 0.61% of South Korea), and spans an area of 30.30 km north-to-south and 34.78 km west-to-east. The Hangang (River) flows horizontally across Seoul, dividing the city into two sections lying north and south of the river.

There are 25 autonomous "gu" districts in Seoul, divided into 426 administrative "dong" sub-units in Seoul. Each "gu" is a basic local government unit that takes care of it's assigned affairs and autonomous duties. The "gu" provides administrative services that are closely related to the lives of citizens.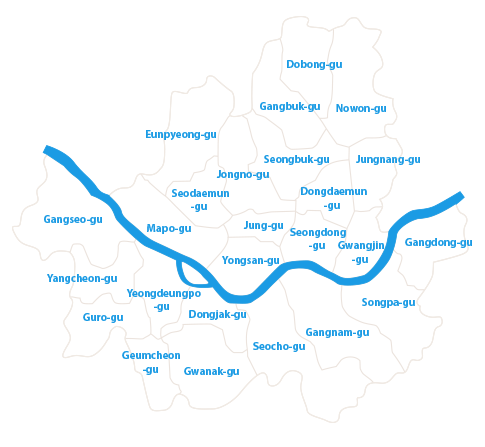 ---
Statistic of Seoul's Population (2023)
"통계로 본 서울" - 인구
Total Population(Q1 2023)

9,668,008

Senior Population (Q1 2023)
(Aged 65 and over)

​1,690,961

Adolescent Population

(Q1 2023)
(Age between 9 to 24)

1,390,357

Old-age Dependency Ratio (Q1 2023)

24.9

Migrants into Seoul (May 2023)

99,323

Number of Foreigners (Q1 2023)

241,604

Households

(2022)

3,873,473

Number of Births (Apr. 2023)

3,062

Number of Marriages

(Apr. 2023

)

2,660

Number of

Suicidal Deaths

(2021)

2,133
Source: 통계로 본 서울 > 서울의 통계 > 통계정보 > 정보소통광장 (seoul.go.kr)

Status of Seoul
This indicates the principal data by selected sectors in Seoul.
서울의 주요 지표 수치"

Number of the Unemployed (June 2023)

​153,000

Gross Regional Development Product (GRDP) (2020)

KRW 444,545.9 Billion

Number of Established Enterprises (2021)

1,188,091

Financial Self-Sufficiency (2022)

76.3%

Electric Power Consumption (2021)

47,295,805 MWh

Information Disclosure Rate (2022)

96.7%

Daily Generation of Domestic Waste (2021)

10,853.9 tons/day

Street Trees (2021)

295,852

Concentration of Fine Dust (Air Pollution) (2021)

38 μg/m3

Daily Generation of Food Waste (2020)

2,540.7 tons/day

Number of Hospitals (2021)
18,261
Number of Foreign Visitors (2022)
(Nationwide)

3,198,017

Number of Theaters (2021)

421

Number of Public Libraries (2021)

195

Daily Traffic Volume (2020)

26,497,000 trips/day

Total Length of Bicycle Lanes (2021)


1,290.4

km
The Index of Transportation Safety (2021)

78.21 points

Number of Subway Users (2022)

2,403,878,000
Source:
http://opengov.seoul.go.kr/stat

A Day in Seoul (2021)
Births

125

babies

Deaths

134 people

Marriages

101 couples
---
Divorces

41 couples

Movement of Population

5,440 people

Passports Issued

467 cases
---
Vehicle Increases

53 Vehicles

Public Transit - Bus Passengers

3,121,000 people

Public Transit - Subway Passengers

5,902,000 people
---
Death in Traffic Accidents

0.67 person

EMS Activity

1,511 cases

Fires

13.6 incidents
---
Electricity Consumed

129,578 MWh

Oil Consumed

96,000 barrel

Domestic Wastes Generated

9,493 tons (2018)
---
Building Permits Granted

34 buildings

Water Supply per Person

303 liters

Liquefied Natural Gas Consumed

12,612,000

m2
Source:
http://data.seoul.go.kr/dataVisual/seoul/seoulList.do
Seoul Statistical Series_01 Population.pdf
Seoul Statistical Series_02 Economy.pdf
Seoul Statistical Series_03 transportation.pdf
Seoul Statistical Series_04 Housing.pdf