Building Retrofit Project (BRP) : Delivering Both Environmental Protection and Economic Benefits
Introduction
Seoul's Building Retrofit Program (BRP) aims to save energy and boost efficiency in buildings by installing new equipment or improving the existing ones. The money saved from these retrofits, in turn, is invested in citizen welfare programs.
Essential in Resolving Energy Problems
Buildings Take up Majority of Seoul's Energy Consumption
The increasing consumption of energy has led to global warming which, in turn, is affecting the lives of citizens throughout the world. As climate change poses a serious threat to the global community, energy saving and energy efficiency are placed high on agenda. For Korea which depends on imports for 97% of its energy sources, the topic is extremely relevant that warrants an urgent attention. Buildings account for more than half (56%) of Seoul's total energy consumption; therefore, finding a way to reduce energy consumption of buildings is an efficient way to address Seoul's energy issue.
 
Laying Foundation for Energy Efficiency Improvement
Cities around the world reached a consensus at the 2nd C40 held in New York in 2007 to reduce GHG emissions and enhance energy efficiency. Seoul started to put the words into action immediately. In 2008, Seoul started the BRP project to enhance building energy efficiency and cut GHG. The program originally targeted public buildings, including City Hall, the Seoul Metropolitan Government's affiliated offices and municipal corporations and social welfare facilities. Over time, the program has expanded to include private buildings such as universities and hospitals, and in 2012 it further expanded to include residential buildings as well. Meanwhile, Seoul is also heavily focusing on assessment of such projects; since 2014, a stricter assessment mechanism has been in place to identify energy-hogging buildings from the ones with good energy saving records.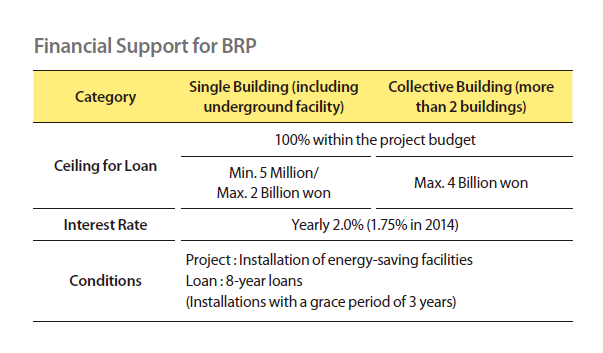 Engaging Citizens through Multifaceted Support Mechanism
Easing Financial Burden on Citizens through Support for Initial Investment
The Seoul Metropolitan Government provides low-interest loans to buildings and energy service companies to help ease the burden of installation costs and enabling greater citizen involvement. Specifically, Seoul offers a 8-year loans at 1.75% interest rate per year for up to KRW 2 billion for each project.
 
Reinvesting the Money for Social Service and More Energy-Saving
Under the BRP, Seoul is targeting public buildings first to set an example for the private sector to follow suit. Seoul has retrofitted social welfare facilities by installing windows insulation, high efficiency heating/cooling devices and LED lights.
So far, 59 welfare facilities in Seoul benefited from the project, saving 15% of average energy consumption and the money saved from these retrofits, in turn, were invested in citizen welfare programs. Seoul will continue to retrofit old and energy-hogging facilities for senior citizens. The project will cut energy use for senior care facilities and improve living environment for the elderly.
 
Targeted Approach to Energy-Hogging Buildings
Universities, hospitals and department stores that use high amount of energy, up to 2,000 TOE every year, and they are categorized as high energy-consuming buildings. In fact, 430 of buildings in this group together account for a whopping 25% of the entire energy consumed by the building sector. Therefore, the city government is requiring the buildings in this category to undergo an energy inspection every 5 years and and advise them to replace devices that use unnecessarily excessive amount of energy.
 
Green Campus
University campus houses various buildings such as laboratories, lecture rooms, dormitories among others. Seoul is encouraging these campuses to become conscious of their energy consumption and voluntarily join the city's green cause. For example, Korea University has formed an energy safety team in the campus which not only monitors energy use on campus but also actively launches energy-reducing initiatives. For instance, the team regularly checks whether lights are left on after class. In addition, the team has upgraded cooling/heating facilities using waste heat from effluent flowing from subway stations nearby while adopting an IT-based BEMS system to better manage energy consumption.
 
Turning Industrial Complex into Energy-Saving Complex
The Seoul Digital Complex is a home to buildings of as many as 12,000 IT companies. The nature of the complex necessitates high energy use, which is why Seoul designated this area as a special energy-saving complex with the target of cutting 10% of its energy use. To support the energy-saving objective, Seoul has launched several awareness and training campaigns for building owners and managers while providing tailored energy consulting services. 22% of buildings have so far participated in the energy efficiency project. Seoul plans to expand the participation level to 60%.
 
Pilot Project for Energy-Saving Complex
In general, many citizens recognize the need to retrofit old houses, but most of them are reluctant to make such a decision for various reasons. To encourage them to make the move, Seoul has partnered with housing service companies to run a pilot project on some of the old public housings. Under the pilot project, old public housings undergo changes to be transformed as energy-saving homes by installing insulated wall, windows and high efficiency heating/cooling devices. When just one of the houses turns to an energy-efficient home, many neighbors were easily attracted to retrofit their houses. Therefore, the pilot project serves to provide a chance for the people to see the benefits of home retrofitting and thus voluntarily join in the house greening move.
 
Providing Affordable, High Quality Windows Insulation
In many housings, insufficiently insulated windows waste a great deal energy, which is installation of window insulations lead to a very high satisfaction to most of the people. In order to encourage more people to change their inadequate windows, Seoul partnered with a number of window companies to provide discounts to consumers who choose to install window insulations.
 
Following the Rationale of Market Economy
For the BRP to be widely adopted, it should follow the rationale of market economy. To this end, Seoul required all buildings over 3,000m² and multiple-unit housings over 500 households to submit energy assessment certificate for housing sales or rentals. From 2015, information regarding energy use of buildings, including public buildings, will be disclosed to the public via real estate portals.
 
Great Citizen Participation Proves Efficacy of BRP
8-Fold Increase in the Number of Participating Buildings in Just 5 Years
Launched in 2008, the program originally targeted public buildings, including City Hall, the Seoul Metropolitan Government's affiliated offices and social welfare facilities. By 2012, the program has expanded to include residences as well as private buildings. Specifically, insulation and improvement of the house environment have been popular among citizens. Over the course of a few years, the number of citizen participation to BRP has significantly increased; in 2014, 57,689 buildings participated in the BRP while only 40 participated in the same project in 2008.
 
BRP Recognized Worldwide
In November 2013, the World Green Building Council chose Seoul for its Climate Action Leadership Award. The prestigious international award honors Seoul's leadership in its comprehensive green campaign.