Seoul Reuse Plaza : At the Core of Reuse Culture
Introduction
Set to be completed in December 2006, Seoul Reuse Plaza will be at the core of realizing 'Seoul, World's Best Recycling City'. The Plaza is expected to play a significant role in driving reuse and up-cycling practices in our society.
 
Two Actions Taken Regarding Recycling
High Waste Recycling Rate of Seoul
As of 2012, Seoul generates 37,854 tons of waste per day, 24% of which is household waste of 9,189 tons. Of this, 65.3% (6,005 tons) is recycled, and the rest is either incinerated (2,465 tons) or landfilled (719 tons). This high recycling rate is one of the highest in the world comparing to other major cities such as New York with 26%, London 25%, Tokyo 18%, and Paris 35%.
 
Low Reuse and Remanufacturing Rate
In Seoul, most of the recyclables being recovered are through commercial junk shops. However, residents do not welcome such junk shops since they are in poor conditions in terms of facility and surrounding environment. Even though reusing used goods is practiced through recycling facilities, reuse shops, and markets, most of them except the district's recycling center are in bad shape due to the negative perspective of citizens on used products. In particular, remanufacturing sector, a future industry of high added value, does not earn stable revenue, which is why the companies in this sector are mostly social enterprises, and it is difficult to secure a proper site.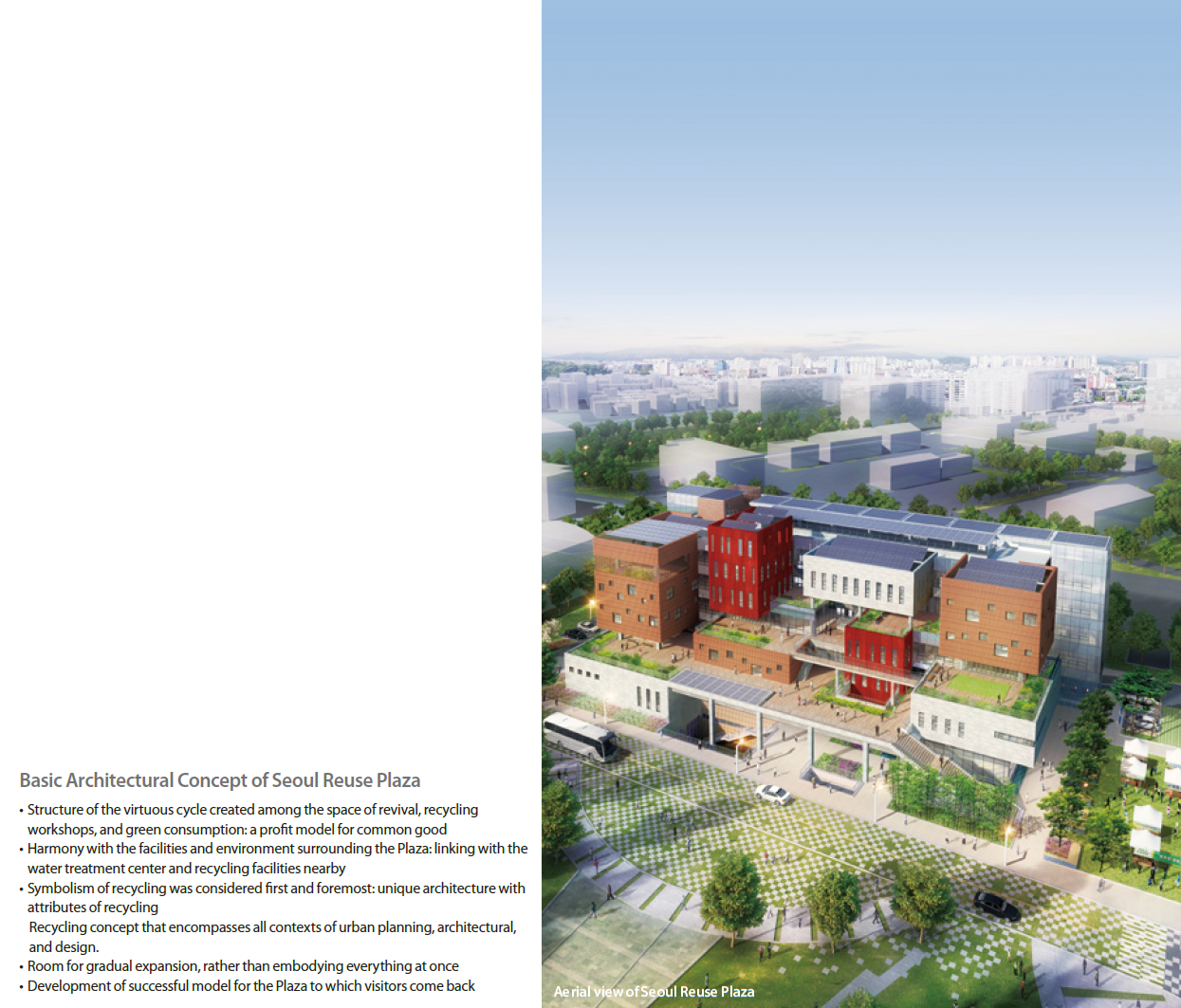 Building an Engine to Spread Reusing Culture
Architectural Concept of Seoul Reuse Plaza
Since April 2012 the city government met with various reuse companies, such as Beautiful Store, as well as experts in the field to discuss the construction of Seoul Reuse Plaza. After thorough discussion, in May 14, 2012, Seoul concluded that the Plaza needs to reflect the core value of Seoul, which is world-class recycling city. To make this happen, the city government consulted with various experts to define the Plaza's basic architectural concept.
In June 2012, the survey on recycling companies based in the Metropolitan area concluded that it is not easy to find a space in Seoul big enough for recycling, and that most of these facilities have moved or have a plan to move out of the Metropolitan area due to the high land rental cost. Another survey found that about 50% of the companies wish to move to the Plaza, demonstrating their high expectation on Seoul Reuse Plaza project.
 
Designing and Constructing Reuse Plaza
Having witnessed the keen interest of the recycling sector in the construction of the Plaza, Seoul decided to push forward with the plan and put its design up to an international bidding from December 2012 to 2013. After a heated competition among 6 companies that submitted high-quality designs, a panel of experts of diverse backgrounds chose "STORY BOX: Dream Factory with Stories" proposed by Samoo Architects & Engineers. The judges praised its uniqueness and artistry that symbolize recycling as well as the building's harmonious design that fit naturally into the surrounding environment. Afterwards, reflecting opinions from experts into the proposal, the Plaza's design was finalized in April 2014.
Seoul Reuse Plaza, living up to its name, will be built with recycled construction materials, and the concept of recycling is applied to all corners of the Plaza in terms of its design and programs. The building itself will symbolize recycling and all the programs conducted inside will also have a theme of recycling. Furthermore, the building will be highly self-sustainable by utilizing renewable energy sources such as solar and geothermal power and LED lightings, and putting energy-saving installations in place.
 
Contents Related to Reuse
Recycling and Reuse Facility
The Recycling and Reuse Facility will be the place where the old products that are gathered or donated such as clothing, home appliances, and housewares will be systematically sorted and re-made into new products. This facility will be not only a forum of education on product reuse but also a workplace for disadvantaged people and volunteers.
 
Recycling Workshop
ops that are planning to be part of the Plaza are as following: Clothing Workshop that uses old clothes, Leather Workshop whose material will be waste leather from discarded sofas or leather goods, Woodcraft Workshop with waste lumber and old furniture, Banner Workshop with discarded banners, and PET Bottle Workshop, among other.
 
Recycling Museum
The Recycling Museum will exhibit the recycling art works donated by artists. It will be a space of story-telling artworks as well as the works of amateur design students or citizens, enhancing the public awareness about recycling.
 
Bank of Recyclable Materials
The Bank of Recyclable Materials will collect, process, and sell discarded leather, banners, lumber, and textile to be provided as recycled raw materials to artists and remanufacturers, businesses or individuals alike. The Bank will play a crucial role in the development of related workshops or companies, but currently there is no such remanufacturing company in Korea.
 
Recycled Product Mall
The Recycled Product Mall will be a place to display and sell recycled products, remanufactured goods, and eco-friendly products. A portion of the profit from selling these goods will be used for charity and public services. The consumers of these products will feel good about taking part in helping the needy, and such spirit of giving and sharing will spread, contributing to creating the culture of good and sustainable consumption.
 
Space for Citizen Participation
The Plaza plans to develop and carry out various programs that will make the Plaza a tourist destination to which visitors come back by operating resource recirculation-themed guided tours, holding events where participants can have hands-on experience of resource recycling and protecting environment, as well as cultural festivals.
Driver of Dissemination of Recycling and Reuse Culture
Cutting Greenhouse Gas Emission
Under the assumption that 15,313 tons of waste will be processed in the Reuse Center every year, the amount of greenhouse gases reduced is 38,000 tons, which is 3 times more greenhouse gases being cut than burying CO2-eq.
 
New Jobs
As the Reuse Plaza will have 16 resident companies, jobs for 39 persons based on domestic industry standard, and 95 persons based on American industry standard, are expected to be created. In addition to the 39 direct employment (based on domestic industry standard), there will be indirect employment (real-estate, financial, and legal services) and induced employment (jobs created when employees spend their wage money) that are expected to be approximately 30 persons.
 
관련 자료