Policy Overview
The No-Driving Day initiative is a campaign based on the citizens' voluntary participation to drive less and use public transport more. Car owners who sign up for the program commit to using other forms of transportation one day per week between Monday and Friday. An electronic tag is issued to the participating vehicles so that they can be monitored for the compliance by radio frequency identification systems (RFID) located across the city. Any non-commercial vehicles registered in Seoul with fewer than 10 seats can join, including leased cars.
Background
-  Growing necessity for energy-saving in times of high oil prices
Crude oil prices, which recently reached a historic-high, seem to be subsiding a little at the moment. However, uncertainty involving the oil prices and possible hikes of public utility rates still lingers. With many households owning more than one vehicle these days, the campaign has come under the spotlight as a most practical and effective way of saving energy.
 
-  Worsening traffic conditions due to the rising car ownership in downtown Seoul
The number of vehicles registered in Seoul stands at a whopping 2.8 million as of 2012 with passenger cars and freight vehicles accounting for 78% and 27% respectively. Nearly 80 percent of vehicles roaming the streets of Seoul turned out to be driver-only, single-occupant vehicles, worsening the congestion further. Considering these circumstances, the program was expected to have a significant impact on mitigating the congestion.
 
-  Deteriorating air quality in downtown Seoul
In Seoul, vehicle emissions are found to be responsible for 78% of air pollution. Compared to other large cities of developed nations such as New York, London and Paris, the concentrations of fine dust articles and nitrogen dioxide are 1.8 to 3.5 times and 1.2 to 1.7 times higher respectively. The social damage caused by such poor air quality is estimated to be around KRW 10 trillion. All these justified the introducing of the program as a way to manage urban traffic volume.
 
Goals and Objectives
- Improve traffic flow and relieve the congestion by increasing driving speed
- Reduce greenhouse gas emissions to improve air quality
- Save energy to deal with the high oil prices
 
Resources
-  Budget (Unit: 1 million KRW)
 
Year
2013
2012
Fluctuation
Details
Sub total
551
567
△16
 
Wages for contract workers
9
9
0
◦ Payroll for contract workers
◦ Benefits for contract workers; insurance, transportation costs
Allowances for administrative affairs
38
52
△14
◦Production of promotional materials
◦Workshops with other administrative authorities
Allowance enforcing policy
4
6
△2
◦ Meetings with citizen supporters
Subsidies for local government
500
500
0
◦ Promotional events and activities
- Human resources
The campaign was implemented by the No-driving day team of the Clean Seoul Transport division. Six members of the team were assigned to tasks; set up and operation of the RFID facilities, development and implementation of incentives for participants and on-site inspection and promotion.
 
Implementation and Expertise
-  Management system
The management system physically consists of the server, readers and electronic tag to be attached to the front windshield. Installed in 127 boxes in 14 spots in the city, the RFID system identifies vehicles traveling on their no-drive day. A warning text message is sent to the vehicle owners who are caught until two times of violation, and they are deprived of the incentives and rewards on the third time of violation.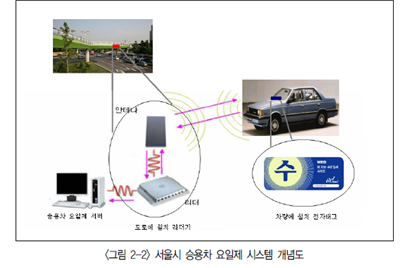 Caption: Management system concept diagram
-  Incentives for participants
 
① Reduction in car tax
Since 2006, participating vehicles registered in Seoul can benefit from a reduction in the annual property tax. In cases where the tag is removed or damaged, as well as the three times of violation, the vehicles are disqualified from receiving the benefit.
 
② Discounts at selected public parking locations
Some of the public parking locations in Seoul and Incheon, Gyeonggi-do Province offer 20 to 30 percent discounts. The benefit, however, is not available at parking lots within the perimeter of the Four Main Gates of Seoul and in congested areas.
 
③ Discounts on the tunnel tolls at Namsan Mountain
As part of efforts to mitigate the congestion in downtown Seoul, the Seoul Metropolitan Government began charging vehicles traveling through the congested areas such as the Namsan Tunnel No. 1 and No. 3 KRW 2,000 per passage. A vehicle failing to pay on time faces a fine of 10,000 KRW, or five times the original toll fee. Vehicles committed to the campaign can get 50 % discount on the toll.
Details of discounts offered as incentives for the No-Driving Day campaign (Unit: 1 Million KRW)
| | | | |
| --- | --- | --- | --- |
| Year | Car tax | Fees at public parking lots | Congestion fee at the Namsan Tunnel No.1 and No.3 |
| 2009 | 7,338 | 208 | 925 |
| 2010 | 10,050 | 146 | 846 |
| 2011 | 9,744 | 159 | 730 |
| 2012 | 9,110 | 173 | 693 |
| 2013 | 5,896 | 337 | 462 |


Caption: Congestion fee collection area
④ Priority parking in areas close to home
The city has the on-street residential parking permit system that grants a parking permit to qualified residents for a shared row of permit-parking-only spaces at a given rate. The program participants are given extra points or priority in evaluating the qualification.
 
⑤ Other incentives to motivate car owners
Beside the above-mentioned measures, car owners are rewarded for their dedication to reducing car use through a number of incentives: reduction in congestion tax; discount at petrol stations; discounted repair services; free car wash; discount in monthly insurance payments; social discounts including restaurants, bike rentals; bookstores, etc.
-  Introduction of the 'Mileage System' to complement the No-Drive Day campaign
The biggest loophole of the previous no-drive day program lacked a mechanism to monitor whether the participants stick to their commitments or not. With a view to tackling the limitation, the mileage system was introduced to provide them with flexible mileage points corresponding to the reductions achieved in their driving distances. The Metropolitan government signed an MOU with three local insurers as well as related state-run agencies and civil groups to push for the mileage program and conducted a pilot project for six months with 50,000 citizens participating.
Flexible incnetives linked to milegae savings from the year earlier
 
| | | | |
| --- | --- | --- | --- |
| Reduction rate | Incentive(KRW) | Reduction rate | Incentive(KRW) |
| 5~10% | 10,000 | 30~40% | 25,000 |
| 10~20% | 15,000 | 40~50% | 30,000 |
| 20~30% | 20,000 | 50%~ | 35,000 |
Results and Evaluation (Cause of Success/Failure)
-  Participants
 
Year
2008
2009
2010
2011
2012
2013
2014.6
No. of committed vehicles(A)
2,397,413
2,421,421
2,490,712
2,515,404
2,442,353
2,352,889
2,378,753
Complying vehicle(B)
837,349
943,329
1,023,811
1,078,042
1,080,793
820,808
787,963
Participation
Rate(B/A)
34.9%
38.9%
41.2%
42.9%
44.3%
34.9%
33.1%
-  Moral hazard of the participants
The number of vehicles found breaking the No –drive day commitment
 
| | | | | |
| --- | --- | --- | --- | --- |
| Year | Total | First-time violation | Two times | Three times |
| 2009 | 159,022 | 87,370 | 31,092 | 40,560 |
| 2010 | 137,449 | 75,774 | 26,649 | 35,026 |
| 2011 | 104,332 | 58,508 | 20,350 | 25,474 |
| 2012 | 59,880 | 38,644 | 10,760 | 10,476 |
| 2013 | 60,435 | 32,513 | 12,146 | 15,776 |
The lack of a monitoring system produced a number of unconscionable drivers. The previous sticker, made of paper, was easily removable and there were no ways for identifying violating vehicles other than visually. Despite the first introduction of RFID in 2006, the effect was limited due to the insufficient distribution and easily removable quality. ☞ To tackle this, the municipality once considered installing CCTVs at major corners of the city but had to back down because of possible privacy breaches and huge costs. Hence, the city has modified the main types of benefits from tax cuts to mileage system to ensure the system is benefiting only those who comply. Additionally, the participants are now required to renew their tags every five years, too.
-  Impractical promotion and lack of realistic incentives
☞Participants would find it difficult to stick to their commitments in case of moving their residence because of the insufficient cooperation and lacking consistency between different regions and districts. Moreover, the promotion efforts remained unrealistic, failing to encourage civil participation. Particularly, to make the incentives effective and beneficial in everyday life, it extended its partnership with living facilities such as theaters, gas stations, repair shops, and car- washing yards.
Applicability (Transferability)
Since SMG introduced the program for the first time in the world, other local governments such as the Gyeonggi-do Province and Daegu Metropolitan City followed suit. Foreign cities have also run similar systems: Hoy No Circula ("No Driving Today") in Mexico City, Color Coding and Number coding in Metro Manila, Philippines.