Background Information and Product Introduction
+ As Seoul's e-governance projects is vitalized and the utilization of information service is increased, Seoul Data Center was constructed in order to provide a reliable e-government service.
+ The integrated management system has been created to integrate the information resource systems that had been in operation and managed by each department and office since 2003.
+ In order to provide 365 days of reliable information service, 24 hour monitoring is provided, which allows stable operation of the 1,065 servers, storage and information systems and prevents hacking, various disasters and accidents from occurring.
Operation System
• Service Management System
+ Online monitoring of all Seoul City Data Center computers through one integrated web screen
+ Important features - Fault management, configuration management, change management, performance management, service level management
+ Application subjects - computational equipment 1,065, information communications 242, information security (privacy) 84
 
• Application Performance Management System
+ Online performance testing and monitoring of Seoul City's internet service from a user perspective.
+ Important features : Online monitoring for web service degradation and failure
+ Application subject : 36 major Seoul websites
 
• Facility Management System
+ Online monitoring of state and failure of the Data Center's base facilities.
+ Application Subjects : switchgear (32), transformers(4), UPS(3), emergency generators (3), distributors (47), batteries (3)
 
Features
• Standard Operations Procedures (SOP)
In order to promote the systematic operating processes to adapt to large-scale systems management environment, the standard operations procedures have been established to standardize and systematize the operations management system. Established standard operating procedures are composed of fault, configuration, change and performance management as well as 7 business process standard operating procedures. From the introduction to the operation of information systems, technical operations have been described as described as clear roles of each department along with the entire procedure for the disposal process.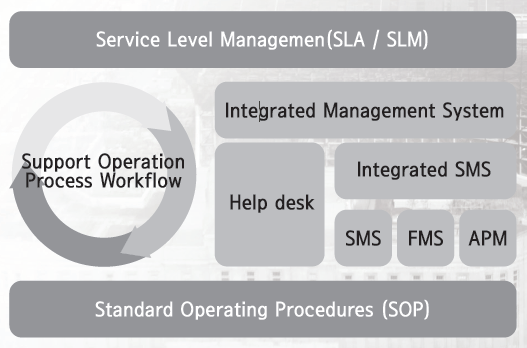 • 24 Hour Comprehensive Control Room
The comprehensive control room has 10 large 50 inch DLPs installed for the various automated operation administration screens to be displayed. This is to control the operating status of the various equipment and information systems. In conjunction, a control room has been prepared to provide for emergency situations that may arise in the control room.
 
• Information Integrated Management System
An information integrated management system has been implemented so that online monitoring of the information system operating conditions can be done via SMS, APM, FMS, and so on. The above measurement system and SMS system has been designed to link to various events so that integrated management can occur.
 
• Helpdesk
A history of faults is filed in a knowledge based system, which will act as a single point of integration to allow for quick and accurate resolution of problems that may arise when business system related consultation occurs when contacting Seoul staff.
Application Example and Operation Outcome
• Budget reductions through construction of integrated infrastructure - reduction of 7.8 billion won over 5 years (2009 ~ 2013)
From 2009 to 2012, information resources, through advanced integration projects, numbered at a total of 210 servers, which were integrated down to 53. By introducing efficient resource utilization and virtualization technology, there have been budget savings of 6.9 billion won. In 2013, by integrating servers from 49 down to 22, there have been budget savings of 824 million won.
 
• Energy reduction through server integration - Initially planned number of servers 259 → 75 actually installed
By integrating the servers being used by each Seoul department, the originally planned 259 servers have been reduced to 75 units. If an integrated environment is built with a up-to-date integration technology in the data center, electric power and cost spent for server operation, such as thermohygrostat, can be saved.
 
• Benchmarked by 165 foreign cities - Japan, Thailand, Iraq, Ukraine, Rwanda, Peru, etc
1,257 people including university officials, public officials and IT technical experts from 165 cities worldwide, including Japan, Thailand, Iraq, Ukraine, Rwanda and Peru visited.
 
Seoul Special Operations Strategy
• Secure operational structure managed directly by public officials
From the time the Seoul data center was established, instead of assigning services to third parties outside of the data center, by having public officials operate directly, the risk of data leakage could be prevented.
 
• Introduction of database duplexing and DB security equipment
By duplicating databases and introducing DB security equipment, it is possible to strengthen the reliable operation of a public information system.
 
• Introduction of SMS failure alerts
In case of failure, the comprehensive control room can send SMS notifications in realtime to allow immediate response to problems.
Major Expectations
• Operation costs reduction through integrated use and virtualization of information resources.
• Construction of information management infrastructure for the stable operation of e-government
• Maximized work flow efficiency through the data center's advanced automated management system
 
Law Provisions
• Data Center Construction General Plan (Market Policy Article 900016, 2003.5.29.)
• Integrated information resource for Green Data Center implementation and infrastructure improvement plan (Director Policy 2008.8.11.)