General
The predecessor to SH Corporation was Seoul City Development Corporation founded in 1989, which was a public corporation established and fully financed by the City of Seoul to contribute to stability and welfare of Seoul citizens in terms of residence, pursuant to the Local Government Act and the Ordinance on the Installation of Local Public Corporations. Its main scope of work included: land acquisition, development, supply and other related matters; housing construction, renovation, supply, leasing and management; redevelopment in areas designated by the mayor of Seoul; implementation of urban and infrastructure plans; work commissioned by the national or local governments; and other urban development-related responsibilities. In 2004, the Corporation changed its name to SH (Seoul Housing) Corporation. Its responsibilities include: building lease housing for low-income families; conducting urban readjustment programs and pursuing the Eunpyeong New Town project; implementing SHIFT programs, which changed the housing market paradigm; and executing environmentally-friendly renewable energy programs such as those in the Magok District Development program. Debt has risen due to the supply of lease housing and a sluggish construction market. Socioeconomic conditions and the construction industry have changed, which in turn has led to changing demands. To meet these demands, SH Corporation has pursued growth and adapted to change as the central body overseeing residential welfare and urban restoration.
1. Objective: Article 1, City of Seoul Ordinance on the Establishment & Operation of SH Corporation
 ⚬ To develop and supply land, build, renovate, supply, and manage housing so as to contribute to residential stability and enhance resident welfare.
 
2. Scope of Work
 ⚬ Land acquisition, development, and supply
 ⚬ Housing construction, renovation, supply, leasing, and management
 ⚬ Improvement, redevelopment, and reconstruction of the residential environment; urban environment improvement programs
 ⚬ Urban infrastructure and urban planning
 ⚬ Work commissioned by national or local governments
 ⚬ Overseas construction projects, attraction of foreign capital and investment, etc.
 
3. History
 ⚬ December 1988: City of Seoul Ordinance on Installation of the Urban Development Corporation enacted.
 ⚬ February 1989: Seoul City Development Corporation founded (Capital: KRW 300 billion; 389 employees)
 ⚬ March 1990: Corporation changes location (Jeong-dong, Jung-gu ⇒ Seongsu-1-ga-dong, Seongdong-gu)
 ⚬ December 1998: Corporation changes location again ( ⇒ Gaepo-dong, Gangnam-gu)
 ⚬ March 2004: Corporation name changes ( ⇒ SH Corporation of the Seoul Metropolitan Area)
 ⚬ November 2014: Byeon Chang-heum appointed as the 13th CEO
 ⚬ December 2014: Reorganization (5 headquarters, 2 departments 13 divisions)
 
4. Capital: KRW 5 trillion  / Paid-in Capital: KRW 4,736 billion (Cash: KRW 2,993.1 billion; In-kind: KRW 1,742.9 billion)
Role & Status
As an institution that has conducted various public projects that affect the general lifestyle of Seoul residents, SH Corporation has been engaged in building housing, managing lease housing, readjusting residential environments, and supplying the necessary infrastructure through use of public funds and profits from land development and housing sales. The role of SH Corporation is to act as a central organ that contributes to residential stability and supplies housing to Seoul residents. It also pursues urban restoration and development.
Residential Stability & Housing Supply
Founded to enhance the residential welfare of Seoul residents, as of late 2013 SH Corporation has carried out land development projects in an area of 16.9 km² (twice the size of Yeouido and spanning over 38 districts including Suseo, Daechi, and Gayang), and has supplied housing to 244,000 households (approximately 6.9% of all houses in Seoul). The Corporation's housing projects include both construction and redevelopment, and reconstruction after purchase. The modes of supply are diverse, in accordance with socioeconomic circumstances and policies.
Source: SH Corporation Promotional Materials, 2013.



<Figure 1> Magok Urban Development
<Figure 2> Naegok Bogeumjari Housing
<Figure 3> Shinnae 3 National Public Housing
<Figure 4> Shinjeong SHIFT
 
The Corporation also supplies and manages lease housing to resolve housing issues for low-income families; as of the end of 2014, the Corporation was managing 160,000 units of lease housing. Considering plans for future supply, this number is expected to reach 297,000 within 4 years.
The Program Entity for Urban Restoration
Source: SH Corporation Promotional Materials, 2013.



<Figure 5> Seun Improvement District
<Figure 6> Shingil 13 Reconstruction
<Figure 7> Yeongdungpo Low-cost Housing Project
<Figure 8> Southeast Distribution District
The importance of public participation in urban restoration is more important than ever in terms of achieving balanced development and improving existing residential environments that are declining due to the recent urban expansion focused more on new cities and new built-up areas. SH Corporation offers various programs designed to improve the residential environment, urban environment, urban facilities, and apartment-type factories so as to breathe vitality into the city, restore the urban community, and recover and transform urban functions.
The Provider of Residential Welfare
SH Corporation has undertaken various social contribution activities and provided residential welfare services to the vulnerable in society to help improve their quality of life, rather than focusing on the number of housing units supplied. As the provider of residential welfare, the Corporation has reorganized and strengthened the functions of regional integrated management centers, making an enterprise-wide effort to provide more specialized services.
Source: SH Corporation Promotional Materials, 2013



<Figure 9> SH Academy
<Figure 10> Free Medical Services, Eutteumi Volunteer Group
<Figure 11> Peace of Mind Call Service
<Figure 12> Group Weddings
SH Corporation: Past & Present
Background to the Foundation of SH Corporation
<Figure 13> New Town Redevelopment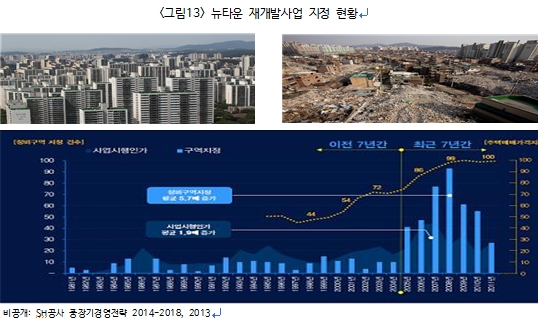 Undisclosed Data: SH Corporation Mid-to-Long-term Management Strategies 2014-2018, 2013
Since the mid 1960s, the central government has undertaken the development of apartment complexes to supply housing. In the first economic development plan, housing construction was treated as a part of the economic plan. Various institutional measures were introduced for the plan, based on which development programs were implemented. In 1988, the central government adopted the policy of providing more land and housing (such as through construction of 2 million housing units and development of 5 new cities in the capital area), necessitating creation of the Seoul City Development Corporation. As a result, the number of new housing units soared from 244,301 units in 1987 to 750,378 units in 1990. Thanks to reconstruction of deteriorating housing and development of new towns, the City, which had no new land available, was able to realize a housing rate of 65% in 1995 and 100% in 2011.
During this process a universal development approach was taken where public institutions would develop land in designated districts and private construction companies would come in and build housing complexes. In 1993, the reconstruction standards for deteriorating apartments were eased and public housing reconstruction projects spread quickly. While this top-down approach by government authorities generated several issues such as landscape degradation, insufficient supporting urban infrastructure, and damage to residential and community environments, it also opened a door to new approaches such as including residents in the plans.
Amidst sweeping socioeconomic and policy changes, SH Corporation has constantly worked to adapt by adjusting its roles and functions. This is evidenced by such programs as SHIFT where the idea of owning housing (a byproduct of physical and quantitative-oriented development) has been switched to inhabiting housing; newlywed and single/couple housing designed to keep up with demographic and social changes; and the 'Nest of Hope' program for residential stability of low-income families.
 
Growth
 
Since its establishment in 1989, SH Corporation has grown into a healthy public entity as it has managed the supply of public lease housing and urban development programs for Seoul. After the mid-2000s however, it began carrying out major policy programs such as Eunpyeong New Town, Magok, and Munjeong, all at the same time, falling into financial difficulties due to snowballing debt.
<Figure 14> Growth of SH Corporation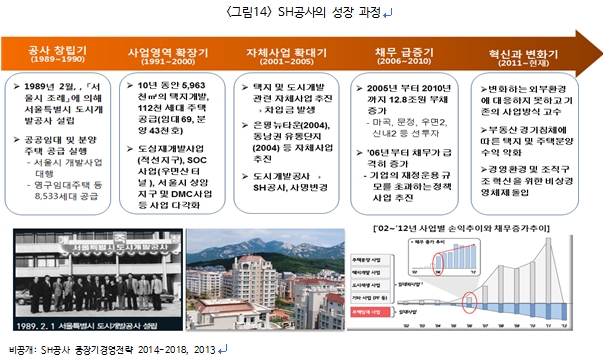 Foundation
(1989 – 1990)

Expansion of Program Scope
(1991 – 2000)

Expansion of the Corporation's Programs (2001 – 2005)

Increasing Liabilities (2006 – 2010)

Innovation & Transformation
(2011 – Today)

*Seoul City Development Corporation founded pursuant to the City of Seoul Ordinance in February 1989
*Supply of public lease housing and housing for sale begun
-City of Seoul development programs executed by the Corporation
- Permanent-lease housing, etc., supplied to 8,533 households

*Developed 5,963,000 m2 of land and supplied housing to 112,000 households (lease housing to 69,000 households, housing sold to 43,000 households) in 10 years.
*Programs diversified: urban redevelopment programs (Jeokseon District), SOC programs (Umyeon Mountain tunnel), Sangam District in Seoul and DMC programs.

*Pursued its own programs (land and urban development, etc.) financed by loans.
*Pursued Eunpyeong New Town (2004), Southeast Distribution Complex (2004) programs on its own.
* Name changed to SH Corporation

*Liabilities increase to KRW 12.8 trillion between 2005 and 2010
-Investments in Magok, Munjeong, Umyeon 2, Shinnae 2, etc.
*Debt increased dramatically after 2006
-Pursued programs that exceeded its financial ability.

*Insisted on existing program approaches, failed to respond to external changes.
*Worsening profitability from land and housing sales due to sluggish property market.
*Entered emergency management to revolutionize its management and organizational structure.
February 1, 1989
Seoul City Development Corporation founded
 
Undisclosed Data: SH Corporation Mid-to-Long-term Management Strategies 2014-2018, 2013
Foundation of the Corporation (1989 – 1990)
In December 1988, the Ordinance on Installation of the Seoul City Development Corporation was passed. In February of the next year, the public corporation was finally launched, with KRW 300 billion in capital (increased to KRW 1 trillion in 1990) and comprised of 3 departments, 9 divisions, and 28 teams, and employing 389 people. In the early years, major achievements included supply of permanent lease housing for 810 households in 1989, sale of public housing to 3,481 households in 1990, and supply of 311 commercial units in Junggye and Gangdong, etc.
 
Expansion of Program Scope (1991 – 2000)
During this period, the Corporation increased the supply of land and housing (both public lease and sale) and contributed to residential stability. In 10 years, it developed an area of 5,962,718㎡ and supplied housing to 112,000 households (69,000 lease housing, 43,000 housing for sale). It also carried out several urban development (restoration) programs, such as the Urban Redevelopment Program in Jeokseon District, SOC (Umyeon Mountain tunnel), and reconstruction programs (KIT apartment reconstruction). The Corporation took an active part in preserving residential culture, participating in projects to preserve traditional housing in Bukchon, Seoul. The Corporation has diversified its scope of programs to include, among others, the Sangam District and DMC programs.
 
Expansion of Corporation Programs (2001 – 2005)
Based on past performance in housing supply and urban development, the Corporation pursued its own programs such as the Jangwi/Wolgye District Land Development project in 2001, and other large-scale development programs like Eunpyeong New Town (2014) and the Southeast Distribution Complex (2004).
As its programs diversified, it was renamed 'SH Corporation' and its capital increased to KRW 5 trillion (2004), a dramatic increase. The pursuit of land and urban development programs by the Corporation actually began as a policy decision made by the City of Seoul, but pursuing public policy as part of its mandate resulted in the need for additional, borrowed funding.
 
Increasing Liabilities (2006 – 2010)
As the Corporation's program scope expanded, large-scale investments were made in Magok, Munjeong, Umyeon 2, and Shinnae 2, leaving the Corporation with substantial liabilities. These programs were not by internal decision or analysis but by the Corporation's failure to stop conducting projects on behalf of the City of Seoul. Moreover, the lease housing projects led to even greater debt, and reduced land development and sale housing projects pushed the Corporation to the financial brink.
Currently, in accordance with orders from the City and national governments, the Corporation is restructuring itself to restore its financial health.
 
Major Achievements
 In total, SH Corporation has developed 16,946,000 ㎡ of land and built or supplied 230,000 housing units. It has also continued to pursue programs of its own (improvement of the urban environment, apartment-type factories, the Southeast Distribution Complex, urban planning and facilities) as well as urban restoration (development) programs commissioned by the City of Seoul.
<Table 1> SH Corporation: Major Achievements
Type of Project

Scope

Details

Land Development

38 districts
16,946,000 ㎡

 ⚬ Suseo, Daechi, Gayang, Banghwa, Gongneung, Sanggye, Sangam, Balsan, etc.

Housing Construction & Supply

Construction by SH Corp. and Purchase

175,544 households
(Lease: 94,462)
(Sale: 81,082)

 ⚬ Land development: 151,724 households (Lease: 75,759/Sale: 75,965)
   - Including Hope Housing and public studio apartments, etc.
 
 ⚬ Residential environment: 6,185 households (Lease: 1,963/Sale: 4,222)
 
 ⚬ Redevelopment: 2,629 households (Lease)
 
 ⚬ Reconstruction: 1,490 households (Lease: 595 / Sale: 895)
 
 ⚬ Construction by SH Corp.: 244 households (Lease)
   - Sangam DMC, Lease for foreign nationals: 175 / Wangshimni Commercial-Residential: 69
 
 ⚬ Purchase/Lease: 13,272 households (Lease)
   - Multi-household: 6,600 / Jeonse lease: 2,635/ SHIFT: 2,979 /

Purchased studio units: 1,043 / row houses: 15

Purchased by the City of Seoul

53,413 households

 ⚬ Redevelopment: 51,836 households (Lease)
 ⚬ Reconstruction (SHIFT): 1,577 households (Lease)

Urban Environment Improvement

1 district

 ⚬ Jeokseon 2 District

Apartment-type Factory

6 districts (339 units)

 ⚬ Shinnae, Shintree, Junggye, Gayang (2), Sangam High-tech Industry Center

Commercial Arcade, Southeast Distribution Complex

8,360 units

 ⚬ Life (5,358 units), Works (734 units), Tool (2,268 units)

Urban Planning Facilities & Other Projects

48 projects

 ⚬ Road construction: 'Seoul – Bucheon', 'Bongcheon – Nakseongdae-gil', etc.
 ⚬ Public car depot: Gangdong, Songpa, Yangcheon, Jungnang, Jangji, Jingwannae, etc.
 ⚬ Traditional Korean housing: Donhwa Cultural & Artist Village  (1 building, 7 units)
 ⚬ Others: Hyangdongcheon Improvement Project, Seogang Remodeling Project, etc.
 Source: SH Corporation Programs, 2014 (as of December 31, 2013).
Future of SH Corporation
Current Issues & Challenges
 
Growing Internal/External Need to Secure Financial Health
The unsold Eunpyeong and Southeast Distribution Complex housing and their consequent increase in debt led to KRW 540 billion in operating losses and KRW 12.6 trillion in debt as of 2012. The Corporation has taken serious steps to sell the unsold lots and has tightened its belt to reduce debt. However, the Ministry of Public Administration & Security increased the financial management standards for local public corporations, making it more difficult to issue public bonds, which in turn has driven the Corporation deeper into its financial mire.
 
Debt from Existing Programs & Lack of Profitable New Programs
With some 85% of Seoul already developed, there is not much room for development in the city and profit from land and housing development is expected to fall in the future. Each year, more and more supplied housing requires maintenance and repairs, further increasing debt from the lease programs, which is expected to reach KRW 214.7 billion by 2013 and KRW 475 billion by 2020. Maintenance costs are also growing over time: between 2002 and 2012, they went up 3.5 times while profits from leasing only doubled.
Growing Demand for Residential WelfareA rapidly-aging society and low birthrates have caused the demand for residential welfare to spike among the elderly and socially vulnerable. The central and Seoul governments are requesting more "Happy Homes" and public lease housing, but the Corporation is increasingly financially incapable of handling such demands. The central government and the City of Seoul will need to provide adequate financial assistance to the Corporation if they wish to develop and supply new housing to respond to changing household types and meet community demands for better residential welfare and services.


<Figure 15> Housing Investment Plans for the Next 5 Years
Source: Seoul Metropolitan Council
<Figure 16> Article on Local Public Corporations
Source: Maeil Business Newspaper, December 28, 2013
<Figure 17> Changes in Types of Household
Source: Hankyoreh, December 2012
Outlook on Major Programs
 
Land Development
While the previous government-led development used up large plots of land, this is changing toward improving the living environment, aided by resident participation. This new approach is in response to growing awareness of the qualitative value of existing urban and residential environments.
In the future, abolishment of the Housing Site Development Promotion Act is expected to limit large-scale projects even further, and new projects are expected to be carried out in collaborative partnership with the City of Seoul (Public Development Center).
Some of the projects that are expected in the future include: construction of more Happy Homes, utilizing public/private land (lots reserved for the rail network) pursuant to the relevant central government policies; joint private-public development projects to ease the burden of initial investment; and housing construction projects after changing original urban plans for unsold parcels.
 
Housing Construction
The new housing policies geared for small/medium housing, such as Bogeumjari Housing or SHIFT, have helped enhance residential stability and quality of life for lower income families, responding to the specific demands of people with different needs such as newlyweds or large families. Over time, the demands for housing types have also changed, which were met by various lease housing policies such as Long-term Housing, Hope Housing, Cooperative Lease Housing, Urban Housing, and SHIFT. A wider range of options for lease housing is expected in the future. The existing approaches of supplying housing on a single, large plot of land may well become less common as need for a more diverse approach grows, which can include taking advantage of complex developments, unsold land, city-owned land, and urban planning facilities. One of the options under consideration is to increase the supply of lease housing while building houses for sale to strike a balance in profitability.
 
Urban Restoration
Urban restoration has usually been centered on redevelopment of lease housing, but it is now time to improve profitability. Because there are limited land and urban development projects now, urban restoration will be necessary as the next projects (one of the main programs). By nature, urban restoration is for the good of the public, making it important to review ways to make up for profit shortfalls. Some options include: low-income housing project; public studio lease; small lease housing built under overpasses; and restoration projects in collaboration with local government bodies.
Improvement programs pursuant to the Act on the Maintenance & Improvement of Urban Areas and Dwelling Conditions for Residents are currently led only by SH Corporation, but joint implementation with cooperatives is under consideration.
<Figure 18> Human Town & Village Programs and Bogeumjari Housing Projects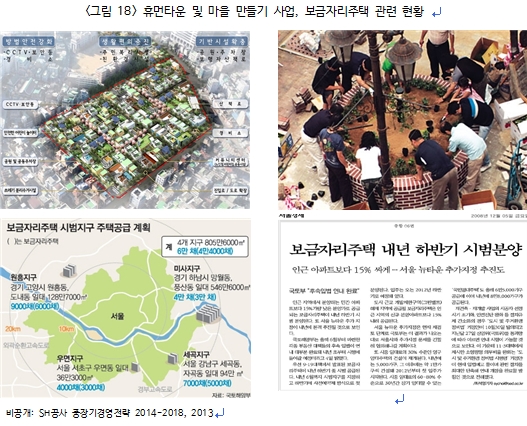 Undisclosed Data: SH Corporation Mid-to-Long-term Management Strategies 2014-2018, 2013
Residential Welfare
The focal point of residential welfare programs has been on management and operation of lease housing, which is likely to continue. There is a growing need for a stronger role for residents in restoring urban communities, meaning there is a greater responsibility to develop and manage community space and programs so they better suit the needs of the community. Above all, there is a constant need for more services and assistance to improve the residential welfare of people living in lease housing, especially the socially vulnerable. In the future, SH Corporation is expected to continually supply and manage lease housing of its own as well as that of the City of Seoul, in accordance with the city's long-term plans which also include purchasing or redeveloping existing houses for lease.
 
<Figure 19> Diversified Community Space & Activities



Source: SH Corporation Promotional Materials, 2013
Compensation
Due to the reduction in land development projects, compensation is likely to decrease accordingly. While compensation for large-scale development will decrease, it is important to keep up with compensation for smaller lots. SH Corporation will need to sharpen its competitive edge by utilizing its past experience with smaller projects and other various types of projects.
 
Others
There has been a wide range of projects, from preservation and promotion of traditional housing to U-City and integrated energy projects in Mokdong and Nowon, as well as the PF project.
Preservation of traditional housing, Eunpyeong Traditional Village, the Southeast Distribution Complex Arcade (Garden Five), and other projects have been developed pursuant to various city policies. As such, SH Corporation will need to respond to each new policy program as it comes.
Based on past experience with development and supply of research and industrial complexes, the Corporation will need to examine ways to participate in the PF project by reviewing the construction projects in Magok Complex and the city's quasi-industrial complex, analyzing fluctuation in the property market, and studying the objective of and necessity for the programs and projects. The Corporation will also need detailed plans on the integrated energy program (January 1, 2002 – current) commissioned by the City of Seoul.
 
<Figure 20> U-City, Distribution Center, and Integrated Energy Projects



Source: SH Corporation Promotional Materials, 2013
Policy Suggestions
SH Corporation has fulfilled its role in urban development and housing supply to enhance residential stability. However, it is now facing a crisis brought on by multiple elements: a changing management environment (policy changes by the central and Seoul governments), increasing public demand for better residential welfare, etc.), depletion of available land for large-scale development, and debt from public lease housing. To survive, the Corporation needs effective strategies to ensure a sustainable source of revenue and a basis for further growth.
 
Policy Priority on Residential Welfare
By the late 20th century, Singapore and nations in Europe had already adopted policies that emphasized the importance of quality living environments, and have focused their efforts on building publicly-owned lease housing. When a certain percentage of public housing stock has been secured on the property market, they strengthened their residential welfare policies, providing rent subsidies and other types of assistance.
Today, public housing is only 5.5% of total housing stock in South Korea, and more is needed. Residential welfare policy will need to be more comprehensive in order to supply affordable housing to the marginalized, assist them in becoming more self-sufficient, enhance their quality of life, and realize social integration. It should be understood that the past approach of using land development profits to supply public housing is no longer valid, and that partnership with the private sector is crucial.
As a rapidly-aging society, Korea has seen a great increase in the number of senior citizens, and demographic and social changes have altered the composition of families. Those people who were left out of the previous policies will need to be included in the future to ensure that they too benefit from residential welfare and public lease housing tailored to the needs of actual users. The previous method of lease management should be made efficient in order to minimize the deficit. While the old way focused on facility management and repairing problems, the new way should go beyond this and strive to provide what residents actually need.
 
Urban Restoration as the Next Engine for Growth
SH Corporation has earned the trust of the public by fulfilling its duty as the developer for Seoul, but it did not have a systematic program with a long-term perspective while executing its policy-based programs. Because there is no available land for large-scale projects within the boundaries of Seoul, the Corporation will need to use urban restoration as specified in the Special Act on Urban Regeneration to secure what is needed for projects. It may also wish to refer to examples where a local public corporation has implemented a project in a way that best utilizes the local characteristics and modify these into programs so they are suited to its own use.
From the perspective of balanced urban development, it is reasonable for the public to participate in the regeneration of deteriorating residential areas occupied by the marginalized and low-income households excluded from previous urban restoration projects. However, such participation without any detailed plans will only exacerbate the present financial crisis. The Corporation should have a competitive edge over the private sector and choose areas where it can perform well. For example, it may wish to consider participating in development of national or city-owned land, using its past development and management experience. Another option would be to manage construction of small residential area projects, considering the trend today of using such improvement projects for the benefit of the public. With effective strategies to strengthen its abilities in urban restoration for the public good and ensure profitability at the same time, SH Corporation could well be a central organization that propels urban restoration in Seoul.
In Closing
As it has shared in Seoul's growth, SH Corporation has accomplished many things and contributed to urban development and supply and management of housing in the city. Times have changed as have demands, and SH Corporation has endeavored to restructure itself and pursue innovation. However, its role – the engine behind Seoul's balanced development, residential stability, and improved welfare – has not changed. In fact, this role, and that of other local public corporations, is critical and should be further expanded to resolve housing issues, improve quality of life, and meet the welfare needs of local residents who also experience demographic changes and social polarization.
Other partnering cities can refer to the following SH Corporation experiences in establishing their own public corporations:
First, the management system needs to fully understand and incorporate the characteristics of the local public corporations and ensure autonomous management. The roles of the central government, local authorities, and the corporation should be clearly defined when it comes to public policy programs. There will also be a need for an institutional and legal framework to create a vertical relationship, aid in autonomous and responsible management, and further define the roles.
Second, systematic financial planning is crucial for sustainable management. In its public lease housing and urban restoration programs, a public corporation should focus less on profitability and more on the virtuous cycle and good business structure such as good returns on investment and balanced profit and loss, by, for example, going back to study precedents and other related cases. It may also prove useful to engage in risk management in order to prepare countermeasures (e.g., financial assistance) for potential losses in the policy programs.
Third, good business models are necessary to strike a balance between the public interest and profitability. For residential welfare programs designed for the public good, an adequate profit model is needed, one that sets itself apart from those of the private sector. This will not only prevent deficits from negatively impacting welfare services but also create the groundwork for providing quality services on a continued basis.
References
SH Corporation Promotional Materials, 2013.
SH Corporation Program Status, 2014.
SH Corporation Mid-to-Long-term Management Strategies 2014 - 2018, 2013.
Maeil Business Newspaper, December 28, 2013.
Seoul Metropolitan Council Reporting Materials, December 2014.
The Hankyoreh, December 2012.