Introduction
In order to encourage resource-saving and reusing practices, to revitalize environment and economy, and to expand the resource-recirculating culture, Seoul is currently operating Sharing Markets, in which used goods are exchanged and sold, and a portion of profit earned from the market is donated.
 
Culture of Sharing Used Goods Taking Root in Seoul
Disinterest in Sharing Market
Some public institutions and civic groups managed 'Thrifty Markets' in which used products were sold since 1994. However, due to local government's lack of will to continue, and poor cooperation system with private organizations, those markets quickly disappeared.
 
Space for Sharing Used Goods and Citizen Participation
With the objective of spreading the culture of reusing old products, Seoul city government and Beautiful Store opened a joint event called "The Biggest Sharing Market on Earth" at the Jamsil Olympic Stadium in November 2003. The event was a huge success with 200,000 citizens participating and 400,000 used goods sold and bought.
In order to keep the citizen's interest alive, Seoul decided to operate a Sharing Market in Ttukseom where the very market is held every year since 2004. Following up on Ttukseom Sharing Market's success, a Green Market opened in 2010 for citizens to participate in resource recirculation in their everyday life. And in 2012, Hope Sharing Market started in Gwanghwamun in which citizens can enjoy not only the Sharing Market but also regional specialty products and handcrafts, and traditional food and performances from foreign countries.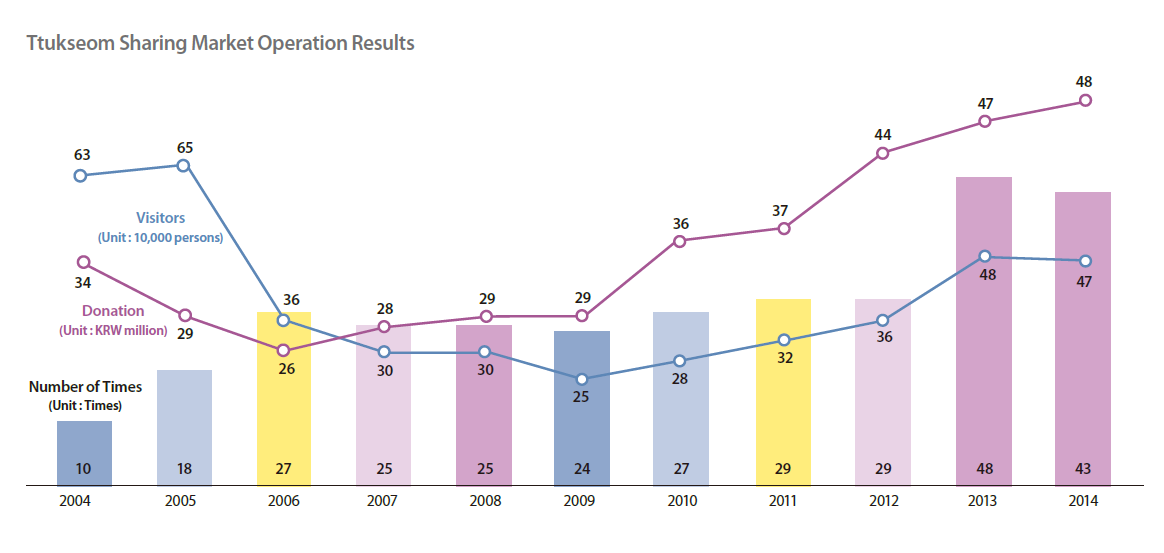 Direct Transaction of Used Goods across Seoul
Gwanghwamun Hope Sharing Market, a Unique 7-day Urban Market
Gwanghwamun Hope Sharing Market is held at Gwanghwamun square and on Sejongno, at the heart of Seoul, under a monthly or seasonal theme. This Market is now considered one of the mustattend events in Seoul where citizens hear loud laughter everywhere, see customers bargaining for more and sellers throwing in extra for free, and feel the warmth of goodwill all around the Market. Hope Sharing Market is essentially a cultural space of diversity and fun. It consists of Farmers Market that sells regional agricultural products from all 8 provinces of Korea, Poongmul Market that sells antiques and handcrafts, Social Economic Market and Self-Support Market where social enterprises and self-support businesses sell eco-friendly products, and International Market where people can enjoy traditional food and performances from other countries.
Gwanghwamun Hope Sharing Market was held 5 times in 2012 as a pilot project, and from March to November 2013, it was held every Sunday except for July and August due to hot weather. A portion of the profit generated from the Market is donated to be used to support food services for poorly-fed children and to send books to disadvantaged neighborhoods.
Spreading the spirit of reuse and sharing, the Market certainly has grown into Seoul's major cultural event for sharing used goods that also appeals to tourists. The Market also hired professional street vendors who will participate in the Market on a regular basis in order to create more jobs. They specialize in 11 categories such as clothing, shoes, up-cycled products, and antique items, adding diversity to the Market.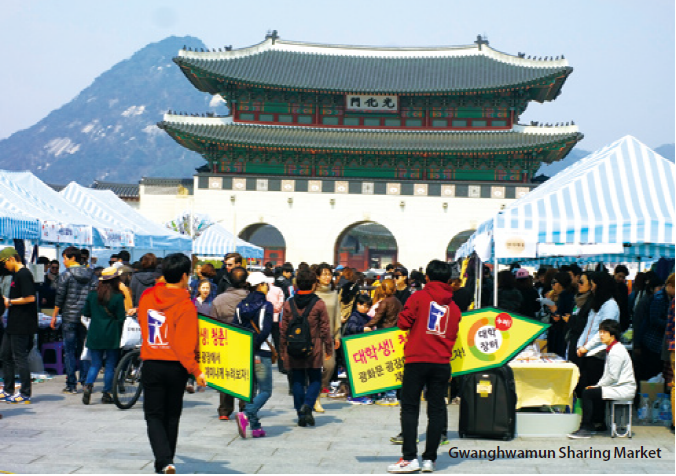 Ttukseom Sharing Market, with the Citizens for 11 Years
Ttukseom Sharing Market, a market with a theme of recycling, is held every Saturday and Sunday at Ttukseom Hangang Park since 2004. The Market is not just a place to sell and buy used goods. It is a popular event of Seoul to which many citizens come back every week because they can feel the warmth in the air between vendors and customers.
Ttukseom Sharing Market has become an open learning space of green culture where children can have a hands-on experience of resource reuse and recycling. Families can come to the Market to participate in diverse family-friendly events such as painting on eco-friendly T-Shirts, accessory-making using old home appliance parts, and paper-making from waste paper.
Also in May, the month of Families, the Market holds special events like 'My Own Family Book' where citizens can make a book that includes the stories of their family, and 'Beautiful Post Office' where they can write letters to their loved ones. Green Planet Market that celebrates the World Environment Day in June, Green Vacation Market in July, and Book Book Book Market in October are some of the seasonal events being held in the Ttukseom Sharing Market that citizens enjoy.
 
Green Markets around the Corner
The Green Market project, a Seoul-style yard sale, has been in operation since 2010 with a goal of spreading the culture of resource reuse and recirculation. It is a policy implemented to create a space of communication among residents at easily accessible places like apartment complexes or parks, and to provide an educational venue for children to learn about environment and economic practices.
The Green Market is a small but popular market place that many citizens enjoy. At a Green Market, which is held in parks, playgrounds, apartment parking lots, or school fields close to their homes , residents can experience the joy of selling or donating items that they no longer use, buying products at cheap prices, or simply looking at diverse items on display.
Green Markets are hosted by local citizen organizations such as women's association of the apartment, local voluntary groups, and religious groups, or by an individual resident. They are held at least 5 times a year in a place close to residents themselves such as open spaces in apartment complexes, parks, and religious facilities. Green Markets prohibits participation of professional vendors or selling inventory products and encourages using re-usable products instead of disposable chopsticks, plates or vinyl bags when selling food.
 
Cutting Carbon Emission and Raising Donation Fund
Ttukseom Sharing Market used to be held once every 2 weeks but now it is held every Saturday (March–November) since 2013. Until 2014, the Market was held in total 385 times in which approximately 8.48 million used goods were sold and 4.41 million citizens participated.
In addition, the Market hosted unit events such as Free Electronic Repair Services and various exhibitions and performances. In 2014 alone, about 740 thousand second-hand items were sold, cutting 2,273 tons of CO2, which is equivalent to planting pine trees in an area 16.5 times larger than Namsan. Furthermore, the sellers of the Market donate 10% of their profit to help those in need. As of the end of 2014, the donation totals KRW 388.88 million, which is used to help poorly-fed children, single-parent families, immigrant workers, and child laborers abroad, and to send books to children in disadvantaged areas.
At Gwanghwamun Hope Sharing Market, since its launch in 2014, approximately 850 thousand used goods were sold resulting in KRW 48 million in profit which was given to low-income families. 850 thousand used goods being sold means reducing 2,611 tons of CO2, the same effect as planting trees in an area 19 times as large as Namsan. About 8 citizens apply for 1 spot to sell goods at the Market, showing their great interest in the Market. In addition, Greens Markets, small-size markets held in neighborhoods were held 1,445 times hosted by 263 organizations in 2012, contributing to vitalization of Sharing Market project. Until 2014, Green Markets were held 6,682 times selling 1.03 million used products and cutting 3,165 tons of CO2.