回收利用站项目:居民区可回收利用垃圾分类处理系统革新
Introduction
The Recycling Station Project is to install a recycling station at which residents themselves would sort the recyclables by types and gather them to the truck-loading point, as opposed to the existing door-to-door collection system.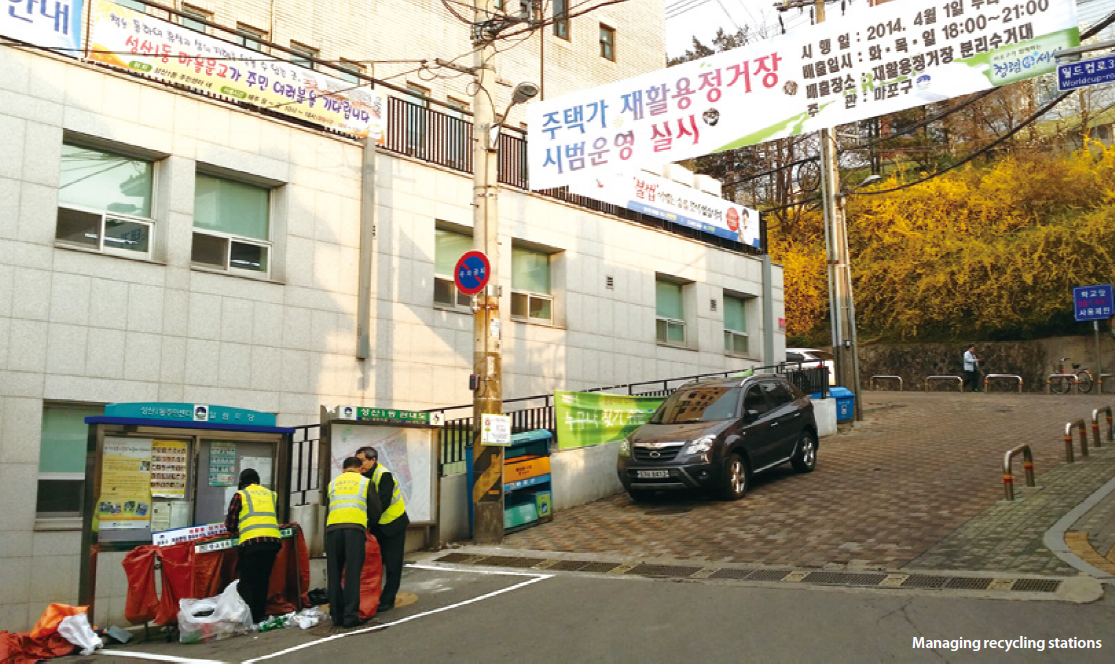 Improving the Separate Waste Disposal System
Small Residential Complexes with Inadequate Separate Waste Disposal System
While the separate waste disposal system worked well in apartment complexes or multi-unit buildings, it did not quite work with single-family houses, small-size multi-family houses, or small commercial properties. As of 2010, 57.2% of the waste dumped in volume-based waste bags was something that could be turned into resources, 41.8% of which was recyclable when excluding food waste. Single-family houses, small-size multi-family houses, and small commercial properties did not have to separate recyclables from general waste, and district office had to collect the recyclables and general waste altogether and send to a sorting facility to be sorted. Recyclables lose their original value going through this process. It also cost KRW 1.7-4 billion in collecting and sorting efforts. Also, as many of the recyclable items in good condition are first picked up by the disadvantaged residents living in the neighborhood, the condition of the recyclables that do arrive in the sorting site is quite poor.
 
Pilot Project Proves Effectiveness of Recycling Stations
Recyclables from apartments or multi-unit building are separately disposed and collected at a designated point. The city government expected that applying this system to areas of single-family houses, small-size multi-family houses, and small commercial properties will improve the recyclable collection rate as well as cleanness of the neighborhood. As a pilot project, Seoul installed 112 recycling stations in 5 dongs (neighborhood unit). As a result, household waste dropped by more than 20% and more recyclables were collected thanks to growing resident participation. This project also provided stable jobs to people in need. Based on such results, Seoul implemented the Recycling Station policy to all neighborhoods starting 2014.
 
Cleaner Environment and New Jobs Thanks to Recycling Stations
Innovation in Recyclable Disposal System
Residents used to dispose their recyclables in front of their homes 2-3 times a week. Now with the recycling station installed 50-100m away from their homes, 150 households share the station to dispose recyclables according to types. This system led to maximization of recycling and reduction in household waste.
 
Provision of Stable Employment
Seoul employed senior residents who used to collect waste paper in the neighborhood as Resource Managers to take care of the recycling station. 15-30 Resource Managers in 1 dong are in charge of installing and removing recycling bins of the station as well as keeping the station and its surroundings organized. They now earn on average KRW 300,000 every month as a recyclable collection reward.
 
Expanding City-level Financial Support and Publicity
Seoul is making effort to vitalize the recycling station system by financially supporting the entire operation during its initial stage and provide recyclable collection reward of about KRW 100,000 to those who are in charge of collection. Administrative districts are also putting much effort and cooperating with the city government by launching a door-to-door publicity campaign.
 
Changes that Recycling Station System Brought to Seoul
After carrying out the pilot project of recycling station in some districts in Seoul in 2013, household waste was reduced by 20% and resident satisfaction rose from 83.3% to 86.3% comparing to the beginning of the pilot project. One can expect the following outcomes by installing a recycling station.
 
High-quality Recyclables Collected
As the amount of impurities mixed with recyclables was reduced by 60,000 tons annually, 180,000 tons of Solid Refuse Fuel (SRF) in a high-quality condition can be recovered starting 2017. Whereas 30% of recyclables disposed was actually impurities not recyclable when the door-to-door collection system was in place, recycling station system reduces the impurity level to 15%. From 2017 when recycling stations are expected to be fully established in the community, the plastic film materials that currently take 18% of the volume-based waste bags will be collected cleanly, recovering about 180,000 tons of SRF every year in a high-quality condition. Naturally, the amount of impurities will also be reduced to 60,731 tons per year.
 
Contribution to 'Zero Direct Landfilling'
The 484 tons of various plastic films expected to be collected every day at recycling stations is equivalent to 14% of how much household waste is being incinerated or buried in landfills in Seoul. This is also equivalent to the total amount of waste incinerated at Yangcheon resource recovery center (400 tons per day) or in two incinerators at Mapo center (3 units with 250 tons, total 750 tons per day).
 
Cutting Cost and Preserving Environment
As more recyclables are collected, waste disposal cost can be saved by KRW 29.3 billion. Demand for building resource recovery facilities is curbed since plastic film types are turned into resources, leading to a KRW 6.5 billion cut in construction cost annually. In addition, since waste and recyclables are collected at designated points rather than from each household, collection cost decreases by KRW 20.3 billion annually. As recyclables are gathered in one place and collected all together, the garbage truck's travel distance and gasoline usage both drop, which saves 755 tons of greenhouse gas (CO2) from emitting every year.
 
Making the City More Beautiful
As 1 recycling station is installed per 150 single-family houses, waste disposal points dramatically drops from 2 million to about 10,000, which means area exposed to waste is also reduced to less than 1/10, making city streets substantially cleaner and more beautiful to look at.