微细粉尘预警机制: 为敏感人群提供的空气污染"警报"服务
Introduction
Among 10 million citizens of Seoul, there are some groups that are particularly vulnerable to air pollution including patients with respiratory diseases, children, and the elderly. To better protect these citizens, the Seoul city government introduced the fine dust forecast and warning system.
 
Seoul, the First Local Government to Issue Fine Dust Forecast and Warning
Back in 2005 when there were no laws in place to regulate fine dust, Seoul Metropolitan Government held public hearings and consultative meetings with experts to enact an ordinance and issued fine dust forecast and warning as the first mover among local governments across the country. As citizens concern over high concentration levels of ultrafine particles originating from China grew, the city government started to issue warnings against ultrafine particles from October 2013.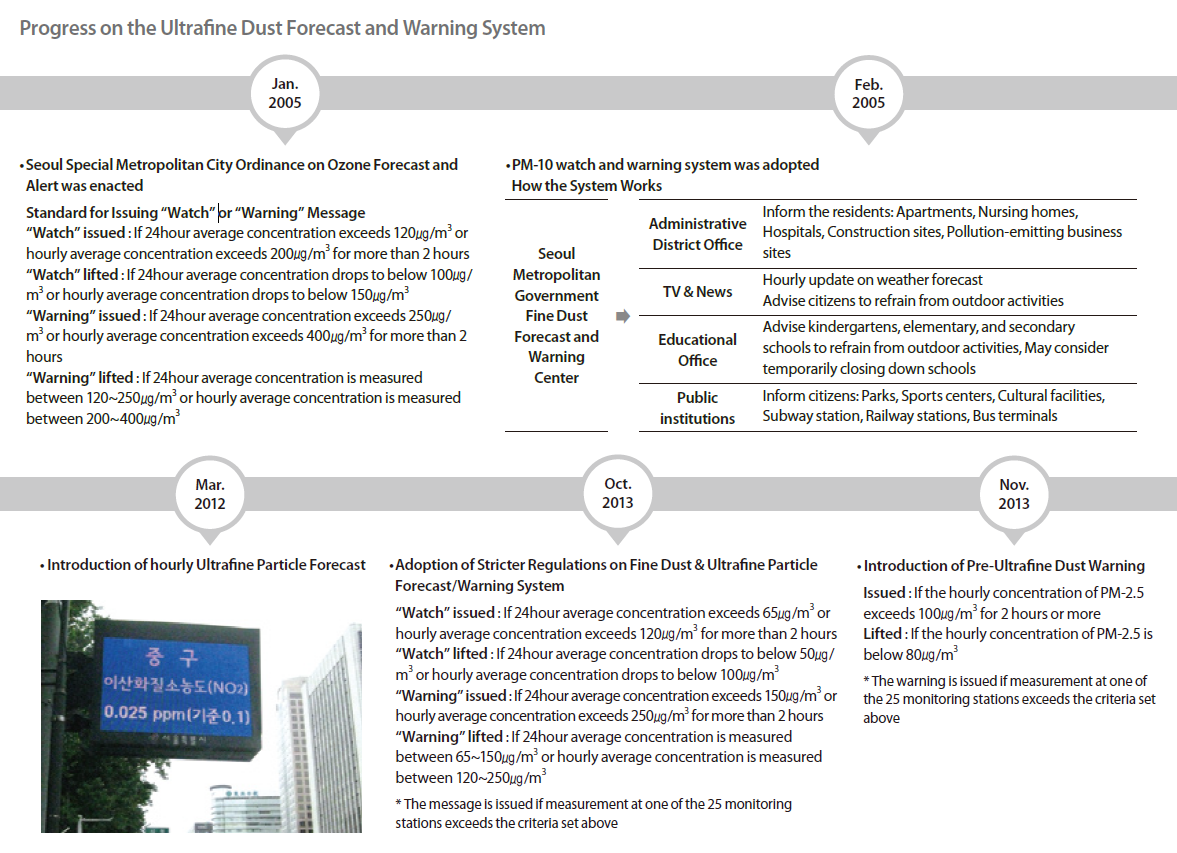 Accurate and Prompt Forecast System
How the Fine Dust Forecast System Works
Fine dust forecast system provides the estimated concentration of fine dust two days in advance so that citizens can refer to the information to make decisions or plan outdoor activities. Depending on the concentration of fine particles, the forecast of level is divided into six grades: good-normal-poor-bad-very bad-dangerous. The weather forecast by the Meteorological Office is also taken into consideration to boost the accuracy of the forecast, which is then delivered to the citizens through the computer system.
 
Hourly Forecasts Depending on the Concentration of Fine Dust
Seoul Metropolitan Government announces two types of fine dust forecasts: Today's Forecast and Tomorrow's Forecast. Tomorrow's forecast is announced at 6pm everyday whereas Today's Forecast, the revised version that takes into consideration the actual weather condition of the day, is announced at 7am in the morning. Also, if the average concentration of fine dust is rated as "poor" or "bad" for more than two hours, an hourly forecast is provided to better inform the citizens.
 
Ultrafine Particle "Watch" vs. "Warning" Message
Seoul Metropolitan Government issues a "Watch" message or a "Warning" message if the concentrations of fine dust or ultrafine particles exceeds a certain amount, advising citizens to stay indoors and schools to close down or refrain from outdoor activities. Depending on the level of concentration, the city government may further advise drivers to refrain from driving and construction companies to suspend work at sites that cause dust or clean the streets with water to remove street dust. If the hourly concentration drops continuously and is not expected to rise again, the "watch" or "warning" message may be lifted even if the average concentration level does not meet the criteria to declare all clear.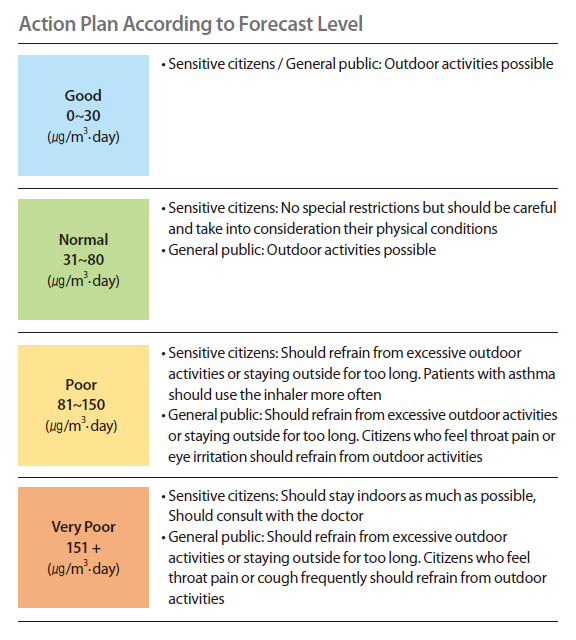 Seoul's System Draws Interest from Central and Local Governments
Since 2007, Seoul Metropolitan Government issued 10 fine dust warnings and 5 ultrafine dust warnings to help the citizens prepare in advance. These announcements were widely covered in the news as best practice, drawing much attention from the central government and local governments nationwide. In fact, the Ministry of Environment, Gyeonggi provincial government, Incheon city government, and Busan city government have benchmarked Seoul's system.