Introduction
District energy is a system of distributing heat generated in a centralized location, such as CHP (combined heat & power plant), resource recovery facility or renewable energy facility, for heating space and water in residential and commercial buildings. Because the heat is generated in an economical way, the district energy system can provide higher efficiency and price competitiveness to users than the system that uses localized boilers.
 
Delivering Energy Efficiency and GHG emission reduction
Two Oil Crises Made Energy Saving Top Priority
The two rounds of oil crises forced the Korean government to seek a series of measures to save energy as a fundamental solution to the energy problem. The central government responded effectively by passing the Act on Rationalization of the Use of Energy and enforcing a series of energy-saving measures.
In conjunction with the central government' energy initiative, the Seoul Metropolitan Government adopted the district energy system for a new town development project in Mokdong that began in May 1985. And in 1987, Seoul introduced district energy system for multiple-unit housings for the first time in the history of Seoul.
 
33% Adoption in Just 30 Years
By 2013, 30 years after the first introduction of the district energy system in Seoul, 518,000 households residing mainly in the 16 administrative districts of Seoul's 25 such districts were served by district energy system. The service population represents 33% of the total multiple-unit housing population which currently stands at 1.546 million.
Price Competitiveness
Waste Heat from Power Plants and Incineration as Heat Sources
To achieve price competitiveness, Seoul cooperated with Bucheon City and Uijeongbu City to be able to use the neighboring municipalities' wasted heat from incinerators and other power plants as sources of Seoul's district heating. In March 2013, Seoul signed an MOU with Uijeongbu City that led to construction of a transmission pipe network. Thanks to the network, since December 1, 2012, Nowon district in Seoul can get its district heating from 60,000 Gcal (6,000TOE) of reject heat recovered from incinerators in resource reuse centers in Uijeongbu. In addition, since March 2013, a 3.1 MW CHP that uses biogas for its heat source was established in Seoul's Nanji Water Reuse Center.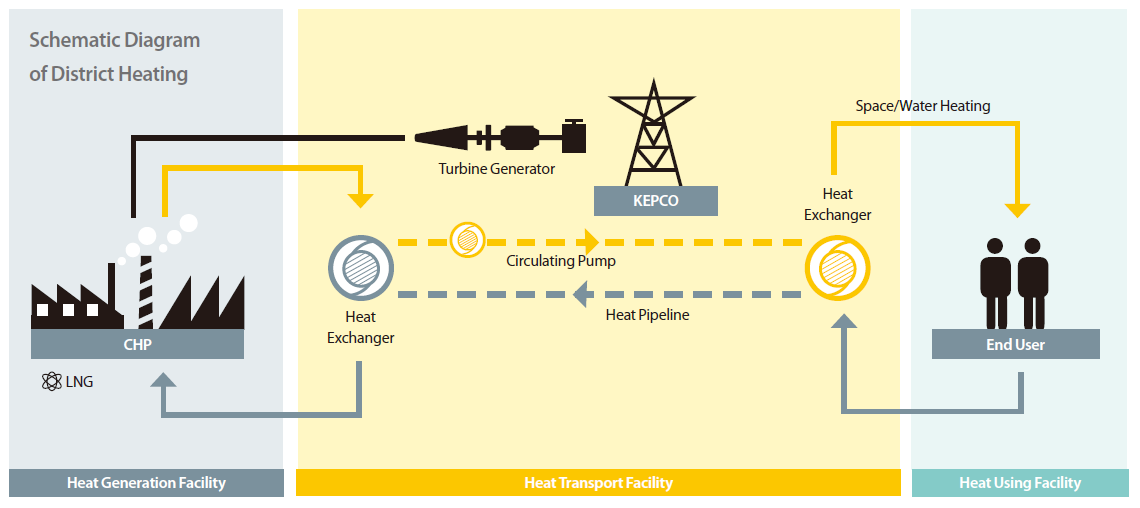 Recovering Heat from Treated Sewage Effluent (TSE) for District Heating
Sewage effluent is a viable heat source for district heating because such water remains above 10°C even during winter. Recognizing the feasibility, Seoul began capturing 190,000 Gcal of waste heat energy from effluents in Tancheon Water Reuse Center to recover and use them to heat water for ilwon area in Gangnam district of Seoul. The project began commercial operation since December 2014.
Seoul is also working to recover 150,000 Gcal heat from wastewater from Seonam Water Reuse Center to provide district heating in Magok Area of Gangseo District. The facility is set to be completed by August 2015 by the partnership between SMG and Seonam Energy Co., Ltd. The completion will allow district energy system to supply heating to 15,000 households. The project is also expected to boost the industry as KRW 35 billion was invested from the private sector.
 
Financial Support to Low-Income Households
The SMG is using a special account to provide more affordable district energy to 242,000 households who can benefit from the service. In addition, to build an inclusive society where everyone benefits from energy welfare services, Seoul is offering a 10% discount on heating cost to 55,000 rental housings where many of low-income households reside.
 
Expanding Generation Capacity of District Energy
Targeting 45% Adoption Rate
Seoul is currently planning to set up a 295 MW CHP in Magok area, which will contribute to achieving Seoul's ambitious aim to generate 1,998 GHw of electricity from district energy and CHP by 2020. The district energy initiative is expected to help Seoul's umbrella project, One Less Nuclear Power Plant to attain its 20% electricity self-sufficiency target by 2020.
In addition, district energy systems can use the reject heat that results from burning fuel to produce electricity at a power plant. Using this mechanism, Seoul plans to provide district energy services to new built houses in Magok Area, 66,000 multiple-unit housings in Guro, Guemcheon, and Yeongdeungpo and 177 office buildings. Seoul set the goal of penetration rate at 45% by 2020.
 
Recovering Heat from Neighboring Areas
The city government puts diversifying the energy source high on its energy agendas. To this end, Seoul will recover waste heat from Bucheon City and Namyangju City, 470,000 Gcal and 200,00 Gcal every year, respectively. In addition, 50,000 Gcal of heat generated from server cooling at Korea's IT giant KT will be used for Seoul's district energy services. From 2018, an annual amount of 350,000 Gcal will be provided to Seoul through the pipeline network connecting the greater metropolitan area.
In addition, as part of its renewable energy initiative, Seoul will also utilize the waste heat (78 Gcal/hr) from fuel cell generators (196 MW capacity) located at Seonam Water Reuse Center. Other sources of heat that Seoul is eyeing on include waste heat (180°C) from exhaust in some resource recovery facilities. In fact, starting with Mapo facility, Seoul plans to get waste heat from 32 such facility by 2018.